Regional Housing Needs Assessment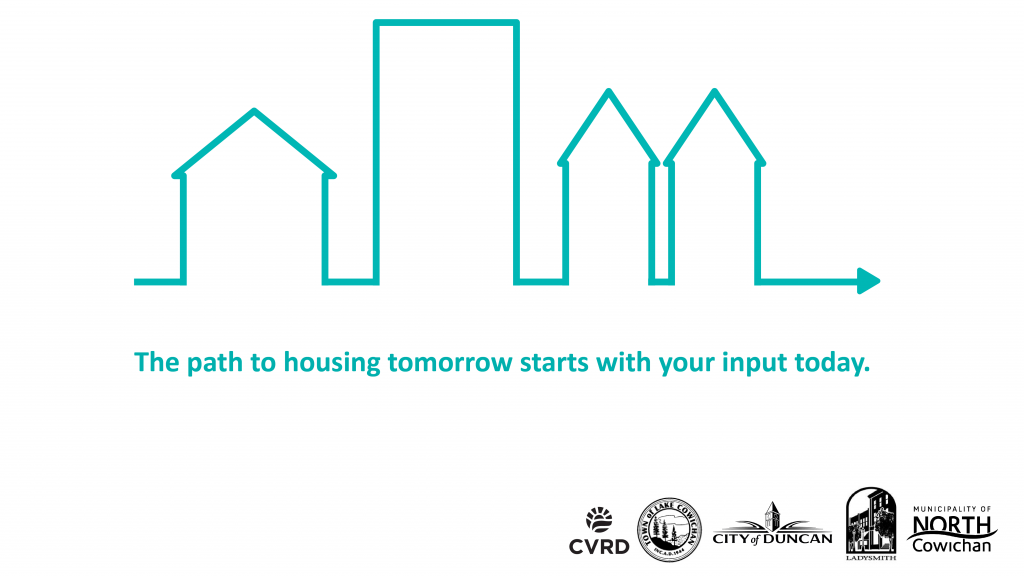 As of April 2019, local governments are provincially required to develop and publish housing needs reports. In doing so, local governments and the provincial government can better understand and address housing needs throughout B.C. The Cowichan Valley Regional District is developing a Regional Housing Needs Assessment in partnership with the member municipalities of the Town of Ladysmith, the District of North Cowichan, the City of Duncan and the Town of Lake Cowichan for each electoral areas and member municipality.
The Housing Needs Reports funding program, administered by the Union of BC Municipalities (UBCM), supports local governments in undertaking housing needs reports in order to meet the provincial requirements.
A housing needs assessment will help us understand what kinds of housing are most needed in our region's communities now and in the future, which will help inform the official community plan and development decisions.
What Is a Housing Needs Assessment?
Your life is a journey, but can your housing keep up? Our lives change, our needs shift and our housing stock needs to reflect that. Housing needs reports aim to identify current and predicted gaps in housing supply by collecting and analyzing quantitative and qualitative information about:
Current and projected population
Household income
Significant economic sectors
Currently available and anticipated housing units
A completed report is required to contain statements about key needs, the number and type of housing units required and the number of households in core and extreme core housing needs. More information on Provincial housing needs reports and requirements can be found here.
Project Next Steps
This web page will be the primary digital information hub for this project on behalf of the Cowichan Valley Regional District, including the 9 electoral areas and the member municipalities of the Town of Ladysmith, the District of North Cowichan, the City of Duncan and the Town of Lake Cowichan.
The process includes the following steps:
Getting Ready – Developing our Communications and Engagement Strategy and Undertaking Background Research- May-July 2020
Information Gathering – Data Analysis and Projections- July-September 2020
Community Engagement – Online questionnaire, targeted interviews and focus groups- August-September 2020
Compiling Findings – Submitting Draft Report- November 2020
Presenting Findings – Finalize and Present Housing Needs Assessment- November 2020- January 2021
Submitting and Posting Final Report – January 2021
Coming September 1st – Share Your Thoughts at PlaceSpeak.ca
The online questionnaire gives you the opportunity to learn more about housing in our region and share your thoughts.
Mark your calendars!
The questionnaire will be open to all CVRD residents from September 1st-September 30th, 2020.
Questions regarding the Regional Housing Needs Assessment can be directed to the CVRD Planning Department.  Phone: 250-746-2620 or Email: coralie.breen@cvrd.bc.ca