Road Closure and Removal of Highway Dedication – Portion of EJ Hughes Place
Public notice is hereby given, pursuant to Section 40 (3) of the Community Charter, that the City of Duncan proposes to close to traffic a portion of EJ Hughes Place ("Closed Road") and remove its dedication as a highway. The Closed Road area is approximately 1395 m2 shown crosshatched on the site plan below. If the road is closed, Statutory Right of Ways for utilities, and driveway accesses for Sherwood and Wedgwood will be registered. Adoption of the bylaw closing this road and removing its dedication will be considered by Council on September 17, 2018.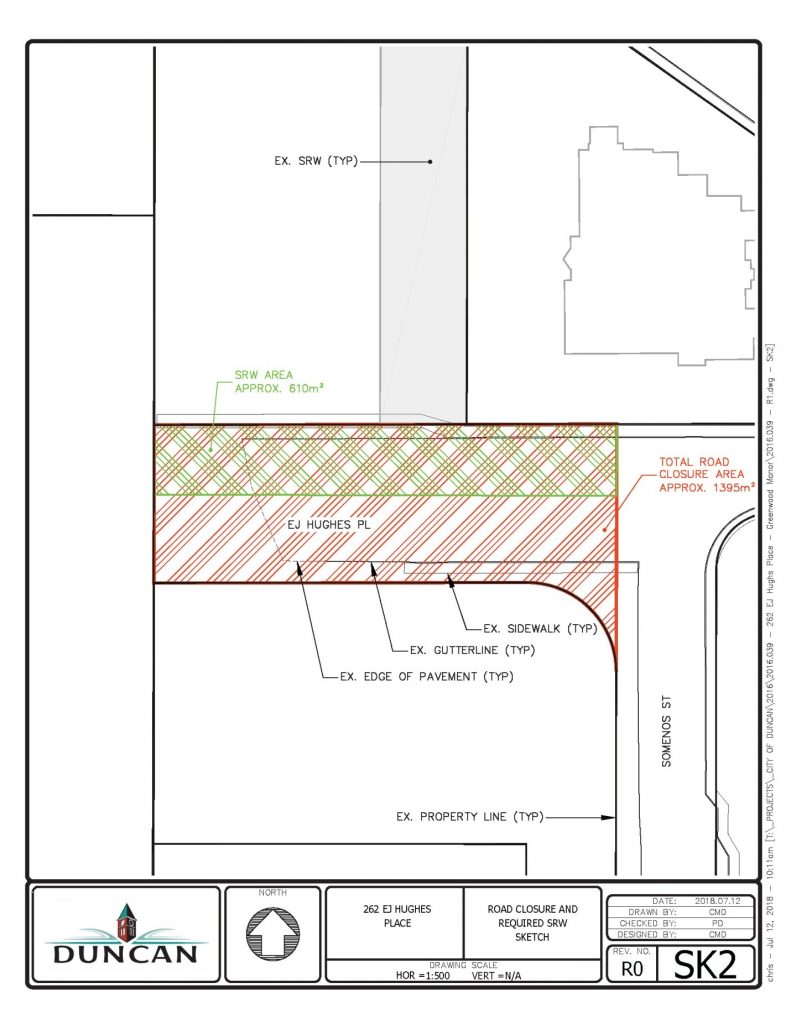 Council has separated the decision on closing the road from the decision on selling the Closed Road. At a future meeting, Council will consider whether to proceed with sale of the Closed Road to 1146824 BC Ltd. and consolidation of the Closed Road and 262 EJ Hughes Place. Notice of property disposition, including conditions of the sale, will be provided in accordance with Section 26 of the Community Charter.
Any person(s) who consider they are affected by the proposed road closure may appear in person or by agent, the evening of the Council meeting on Monday, September 17, 2018 at 6:00 p.m., or submit written comments to the Director of Corporate Services by email at paige@duncan.ca or by mail to 200 Craig Street, Duncan, BC V9L 1W3. Submissions received by 4:00 pm Thursday, September 13, 2018, will be included in the public information package for Council consideration.
Copies of the proposed bylaw and other related documents may be inspected at City Hall during regular business hours 8:30 am – 4:00 pm, Monday to Friday. For convenience only, the bylaw is posted here.